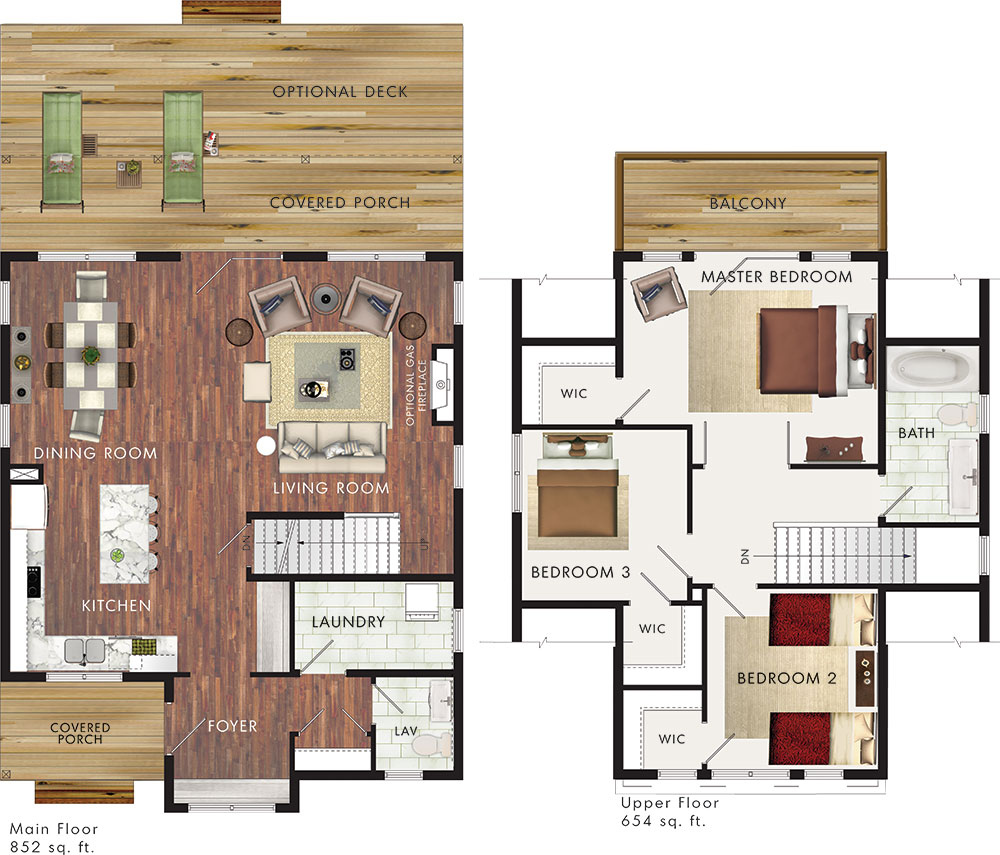 Specs
Great Room: 17′-1″ x 15′-3″
Kitchen: 14′-5″ x 12′-6″
Dining Room: 10′-0″ x 12′-7″
Primary Bedroom: 15′-1″ (11′-0″) x 12′-0″
Bedroom 2: 12′-6″ x 11′-10″
Bedroom 3: 9′-10″ x 10′-6″

With two covered porches and a balcony, the Capilano offers many ways to enjoy the outdoors. This charming two-storey cottage has a quaint exterior with lots of windows and attractive shed dormers. The entire main floor has an open concept design that will allow any number of guests to feel comfortable. At the front of the house, tucked away to the right are a powder room and a laundry room. These amenities make a cottage feel even more like home, especially for longer visits. Upstairs is a double door entry into the master bedroom. On the other side of the room is another inviting door that leads to a private balcony. All three bedrooms on the upper level have walk-in closets allowing ample storage for every guest. A three-piece bathroom is plenty big and in close proximity to each bedroom.
5
Reviews
2
reviews for this content.
Share your Beaver Homes and Cottages Story with us!
×
Please select one or more photos to proceed!
UPLOAD PHOTOS FROM YOUR FACEBOOK
UPLOAD PHOTOS FROM YOUR INSTAGRAM
UPLOAD PHOTOS FROM YOUR COMPUTER