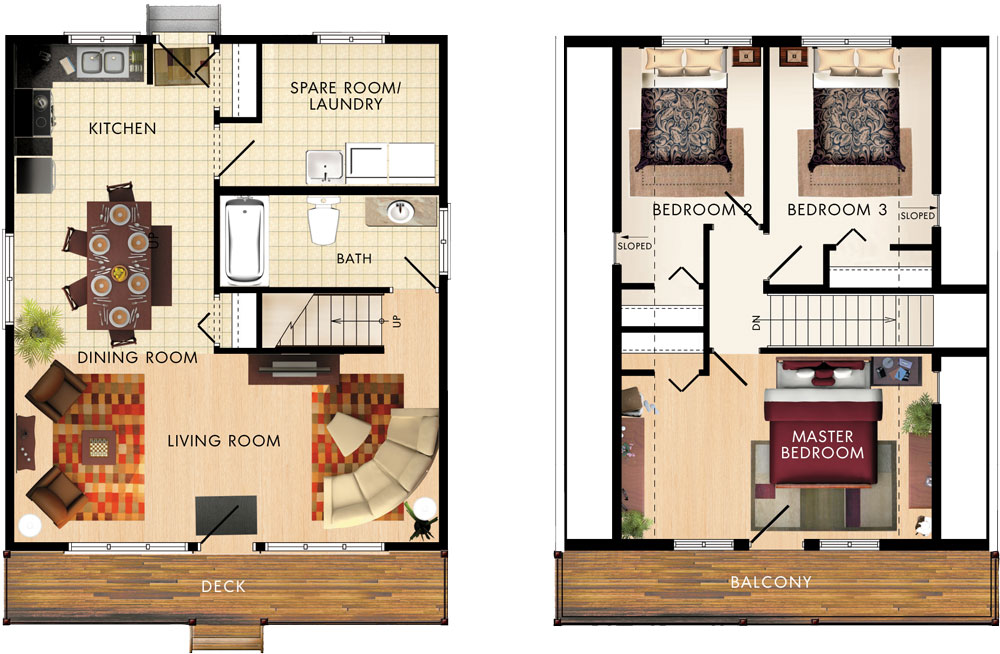 Specs
Main Floor - 672 Sq. Ft.
Upper Floor - 498 Sq. Ft.
Great Room: 23′-1″ x 10′-3″
Kitchen: 10′-10″ x 8′-10″
Dining Room: 10′-10″ x 8′-2″
Primary Bedroom: 17′-1″ x 10′-3″ (9′-0″)
Bedroom 2: 7′-10″ x 13′-0″ (9′-9″)
Bedroom 3: 8′-11″ x 10′-10″


The Caledon is easily admirable at first glance with the numerous windows and two-story covered decks. This cozy chalet is 1170 square feet and contains three bedrooms, all on the second level. The master bedroom and great room both have their own access to the covered porches seen from outside. No matter what the weather, you can easily enjoy fresh air. On the main floor are the kitchen, dining room, great room, bathroom and a spare room for laundry or extra storage space. Nestled in the dining room and great room area is a bonus closet that can be used as a pantry or linen storage.
5
Reviews
10
reviews for this content.
Share your Beaver Homes and Cottages Story with us!
×
Please select one or more photos to proceed!
UPLOAD PHOTOS FROM YOUR FACEBOOK
UPLOAD PHOTOS FROM YOUR INSTAGRAM
UPLOAD PHOTOS FROM YOUR COMPUTER